The federal cabinet on Tuesday approved the national energy conservation plan, which would be implemented with an immediate effect.
The cabinet held a meeting with Prime Minister Muhammad Shehbaz Sharif in the chair.
The federal cabinet approved the national energy conservation plan, which would be implemented with an immediate effect
ByMuhammad Anis & News Desk
January 04, 2023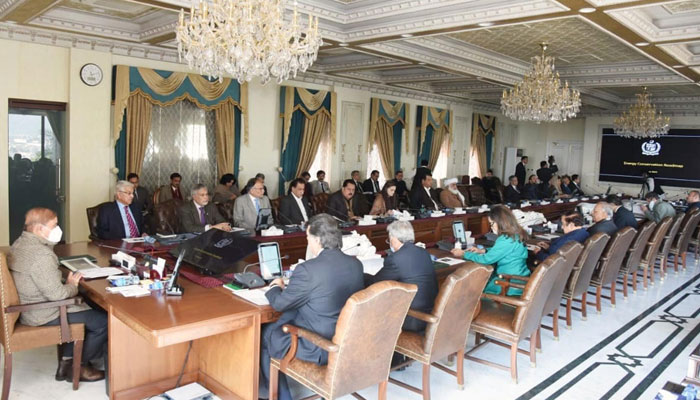 ISLAMABAD: The federal cabinet on Tuesday approved the national energy conservation plan, which would be implemented with an immediate effect.
The cabinet held a meeting with Prime Minister Muhammad Shehbaz Sharif in the chair.
Defence Minister Khawaja Muhammad Asif told a news briefing that under the plan, the markets and shopping areas would be closed down by 8:30 pm while restaurants and wedding halls would have to be shut down by 10 pm.
"Only this measure will help save Rs62 billion on import of fuel and other expenses," the minister said.
Khawaja Muhammad Asif said that the meeting of the federal cabinet on Tuesday was held while using solar energy. "The federal cabinet today okayed the proposed energy conservation plan of the Power Division," he said.
Minister for Climate Change Sherry Rehman, Minister for Power Division Khurram Dastgir Khan, Minister for Housing and Works Maulana Abdul Wasay and Minister for Information Marriyum Aurengzeb were also present on the occasion.
Asif said the prime minister during the meeting directed the federal government ministries and departments to reduce the use of electricity by 30 percent and avoid use of electric appliances in all the offices.
Sharing the salient features of the energy conservation plan, the minister said the production of inefficient electricity fans would be stopped from first of July next, saying that additional duty would be levied on inefficient electric fans to save Rs15 billion in this head
Asif said a campaign would be launched through print, electronic and social media to create an awareness about the energy conservation plan.
He said that water rates would also be reviewed in order to ensure the conservation of water while building control authorities would bring necessary reforms in by by-laws of housing societies to ensure efficient use of water.
He said that manufacturing of incandescent light bulbs would be stopped from the first of February to save Rs2 billion.
Asif said all the public sector departments will ensure use of efficient energy appliances, while alternate street lights will be switched on.
He said conical baffles would be installed in geysers within a period of one year to ensure conservation of gas, which is anticipated to help save ninety two billion rupees. He said that electric bikes were being introduced in the country to save three billion dollars, which are spent to import petrol used for motorbikes.
The minister said a committee headed by Prime Minister Shehbaz Sharif will review this proposal and a decision on the matter would be taken in a matter of eight to 10 days.
The federal cabinet also approved reduction of maximum retail prices of 20 medicines to provide relief to the common man.
Asif said the Federal Board of Revenue had also been directed to publish a separate tax directory of parliamentarians.
Senator Sherry said the new Energy Conservation Plan will help in coping with the dangerous impacts of climate change.
She pointed out work from home policy, which was implemented during the Covid-19 epidemic, helped in saving energy and there was also reduction in environmental pollution, saying it could be a successful action plan for future.
Minister for Power Khurram Dastgir, while responding to a question, said that there is no plan to privatise any electricity distribution company as whole rather a few functions of companies would be outsourced.
He pointed out that the companies suffering losses were not suitable for privatisation while there was no need to privatise companies which were in profit. He said that previous tariff for net metering for solar energy users would continue and the National Electric Regulatory Authority (Nepra) had issued no new orders regarding revised tariffs.
Meanwhile, the Punjab government rejected the Centre's energy conservation plan while the Khyber Pakhtunkhwa government was undecided about its implementation.
In a statement, senior Punjab Minister Mian Aslam Iqbal said the provincial government had rejected the federal government's plan to conserve electricity. "The federal government's decision is not accepted by the Punjab government," he said.
In a press release, APAT President Ajmal Baloch said shops and restaurants would not close before 10pm and 11pm, respectively. Conserving energy by putting the brakes on economy is not a wise decision, he said.
Baloch proposed conserving energy by cutting down on the use of air-conditioners and heaters in government buildings, and restricting the fuel and power privileges for bureaucrats and government officials. He further said that the business community should be provided uninterrupted power supply to keep the economic wheel spinning.
Meanwhile, Khyber Pakhtunkhwa government spokesperson, Barrister Mohammad Ali Saif, said the provincial government was not taken on board when drafting the policy.
He further said the province's input was also not sought when deciding the timings for the closure of shops and markets. "The KP government is already taking steps to conserve energy," he said, adding that steps were also being taken to combat the environmental pollution.
Saif said that the provincial government had not yet decided on implementing the energy conservation plan.